John has been going through a rough patch for a while, he lost one of his close friends, faced financial problems and his family life was troubled.
When you go through painful experiences, they leave a mark on your mind, creating internal conflict which makes you self sabotage.
John was able to solve these issues inside the Source Hacker System™ by doing what's called "Memory Flipping" a technique I teach to deal with past trauma.
Since then he was able to improve his health, relationships, the quality of his life and generate $500 in a single day.
Read his story below: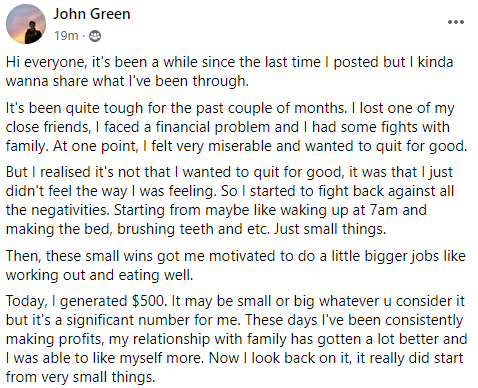 John has also created his morning routine and designed the 2.0 version of himself, in order to make reaching his goals easy.
You can learn all the techniques John used inside the program.

Backed by a 30 day full guarantee.
The best part is..
.. you will be following a personalized plan that's based around your goals with a success agent helping you every step along the way.